| | | |
| --- | --- | --- |
|   | Flash is Flash | November 16, 2012 |
---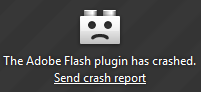 It's 2012. Video on the Internet has been the rage for a couple of years.
The de facto standard for video has become Adobe Flash.
This sucks. Flash leaks, it crashes, and it is a proprietary protocol from a closed single sourced vendor. I hear from my Mac buddy that it leaks worse but crashes less on his Mac.
I know, "HTML 5". We're still 4-5 years away from that being the norm. So for now we continue to suffer.
---
This page created November 16, 2012. Last touched Sunday September 25, 2016 02:03 EDT