| | | |
| --- | --- | --- |
|   | BuckoFlower | January 8, 1998 |
---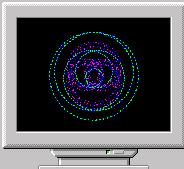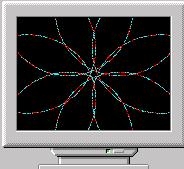 The first BuckoFlower was written in 1982 on an Atari 800. I ported it to Windows 3.1 Turbo C in 1991. Recompiled for 32 bits January 1998.
BuckoFlowers are Spirograph things. Two enhancements are:
The ability to specify radii that are harmonics of each other. This gives a harmonius look to the flowers.
Addition of a third circle. Rather than a circle orbiting a circle, you can have a circle orbiting a circle orbiting a circle. Looks cool. (I tried 4 levels but that mostly yielded poop.)
I like to think of them as analog fractals ;)
BuckoFlower takes up 58KB of hard disk and runs in 864KB of memory. I felt bad using so much memory until i noticed that the blank screen saver uses 796KB of memory! (ssstars uses 940KB memory)
Get BuckoFlower

16 bit
V1.2
For Win3.1
32 bit
V1.4
For Win95 and NT
Unzip it into your C:\WINDOWS directory (or C:\WinNT) Select BuckoFlower to be your screen saver.
---
| | |
| --- | --- |
| Since BuckoFlower runs as a screen saver, you can't specify the individual radii of the circles. You can give hints to the program about what shape Flowers to draw. | |
---
This page created January 8, 1998. Last touched Sunday September 25, 2016 02:03 EDT