qtpov

Render

November 23, 2017
---
There are two ways to select a file to render.
Command Line

Type the name of the file to be rendered in the command line.
Here, I have also specificed a width of 640 and height of 480
After typing in your options, either press Enter or click the (green) Render button.
---
Context Select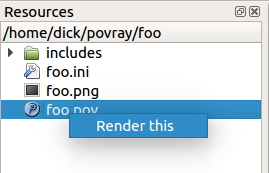 Choose a file in your resource tree and right-click on it. This will select the file.
Then press the (green) Render button
Also, Ctrl-Alt-R will run the currently configured render.
---
This page created November 23, 2017. Last touched Tuesday December 12, 2017 23:51 EST